Communication through e-mail The Indian Railways Information and Communication Technology (IR ICT) Security Policy, 2019 details the information security policy that all IR units shall observe and follow. Section 17 of the Policy defines the acceptable e-mail usage in official working in sync with the Government of India's (Gol) e-mail policy.: Rly Board
Railway Board order:All official communication through e-mail using only the e-mail services of GoI i.e. @gov.in/@nic.in domain should be used for all official communications
भारत सरकार Government of India
रेल मंत्रालय Ministry of Railways
(रेलवे बोर्ड) (Railway Board)
OFFICE ORDER NO. 42 of 2020
Sub : Communication through e-mail
The Indian Railways Information and Communication Technology (IR ICT) Security Policy, 2019 details the information security policy that all IR units shall observe and follow. Section 17 of the Policy defines the acceptable e-mail usage in official working in sync with the Government of India's (Gol) e-mail policy.
6. In view of the foregoing, all are requested to adhere to these instructions and all
official communications over email should only be entertained and/or entered into
through the official [@ |gov[dot]in / [@]nic[dotl]in.
No.2019/RBCC/7/7/Policy Implementation
Sd/-21. 05. 2020
(Rajnesh Singh)
Director M.E (C&IS)
Railway Board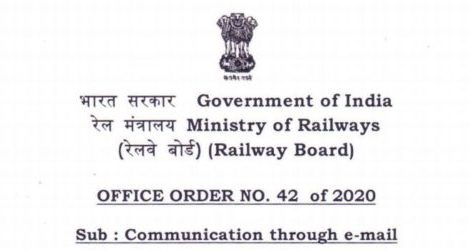 Source: Indian Railway
[http://www.indianrailways.gov.in/railwayboard/uploads/directorate/secretary_branches/Office_Order_2020/OO_42_22052020.pdf]